Latest News
For information on Corporron Acres and Pinnacle Cattle, watch our video.
Brandenberger joins management team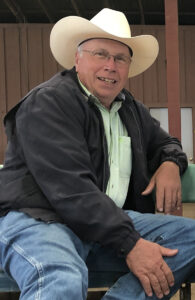 Corporron Acres and Pinnacle Cattle Company has announced that Tommy Brandenberger has joined the management team for the family operations in the position of ranch consultant. Corporron Acres and Pinnacle Cattle Company are registered Santa Gertrudis and Star 5 Female producers outside of Schulenburg, Texas. Corporron Acres is owned by Jim Corporron, while Pinnacle Cattle Company is owned by his son, Rodney and his family.
Brandenberger brings a lifetime of knowledge and experience in the beef industry, as well as a valuable skill set in nutrition, production practices, reproduction, genetic selection and mating, marketing, health and forage production.
He and his wife, Susan currently own and operate 96 Cattle Company, a commercial cow/calf operation in Hallettsville, Texas, Brandenberger has a valued resume that includes a degree in animal science from Texas A&M University, where he also competed on the livestock judging team, nine years managing the high-profile Cuarenta Ranch Beefmaster seedstock program at Muldoon, Texas and he was also manager of the Umphry Beefmaster operation in Brackettville, Texas. In 1991, he joined Migl Feed and Grain in Hallettsville, Texas and would eventually become the manager of the operation.
While at Migl, Brandenberger learned many agricultural business aspects, oversaw the retail end of the feed and fertilizer store and worked daily with area ranchers, as well as tending to his own operation. In 2015, he and Susan decided to commit their time, energy and expertise to expanding their own operation.
"I've known and worked with the Corporrons for many years, so I'm delighted to be a part of their team and share in their progression as leaders in the purebred and commercial cattle business," said Brandenberger.
"We are excited to add Tommy and his strong cattle industry resume to our registered and commercial programs. We feel his experience, knowledge, reputation within the industry and high character will position us to produce cattle suited for increased potential and profit for us and our customers," described Corporron.
Corporron Acres was formed in 1973 by Corporron and late wife Dolores and it was a commercial operation until 1994. At that time, the program became a producer of registered Santa Gertrudis and Santa Gertrudis influenced cattle and has been for more than 25 years.  The headquarters for both ranches is located five miles south of I-10 on Hwy 77 in Schulenburg. Texas.
Ad Archives
***Please note Dos Bros Ranch is now Pinnacle Cattle Co.

Same high quality genetics–just new name.***
Latest Edition – Winter 2020 Newsletter
Corporron Acres
Jim Corporron
3148 CR 229
Schulenburg, TX 78956
979-562-2405
email
Tommy Brandenberger
Ranch Consultant
361-772-7790 • email
Jesse Mendel
Manager
979-561-7103
Pinnacle Cattle Co.
Rodney & Barbara Corporron
528 CR 223
Schulenburg, TX 78956
713-724-1263